Establishment of the Law Office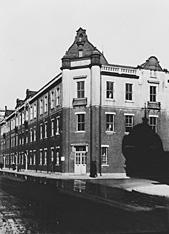 The history of Iwata Godo started in 1902 when Dr. Chuzo Iwata established Iwata Chuzo Law Office ("Iwata Office") in Tsukiji, Tokyo. In 1906, Iwata Office moved to the Mitsubishinaka 14th Building in Marunouchi in Tokyo which is the first business office district in Japan and was called "Iccho London (the London Block)" at the time. Since then, in this Mitsubishinaka 14th Building, over half a century until the office was relocated to the Marunouchi Building (not the current one but the former one before its reconstruction in late 1990s), Iwata Office grew as one of the pioneering law firms in Japan that specialize in corporate legal services increasing the number of attorneys belonging to the firm.
The Expansion Period -Contribution to the Accumulation of Judicial Precedents
At the time of establishment of the office, Dr. Iwata intended to become an expert in the fields of banking business as well as maritime transportation focusing in particular on marine insurance. In order to achieve this aim, he made a request to Hirobumi Ito (a distinguished statesman who had repeatedly served as the Prime Minister), who was from a neighbouring village in Yamaguchi, Dr. Iwata's hometown, and whose acquaintance Dr. Iwata had made during his days of study at Tokyo Imperial University, asking Mr. Ito to introduce Dr. Iwata to the management of the Bank of Japan and Mail Steamship Companies. As the fruits of this courageous action, Dr. Iwata was appointed as a legal counsellor by both of these entities. Dr. Iwata devoted deep study to the maritime commerce law as well as to the marine insurance law and strived to settle such major cases as "the Claim for Damages Caused by the Sinking of Umegaka-Maru in Broad Daylight in Shimonoseki Port" and "the Insurance Policy Claim Regarding the Sinking of Takenoura-Maru in Kushiro Port". Dr. Iwata thus became renowned as an expert in maritime adjudication. Also in the field of banking business, as the legal counsellor of the Bank of Japan, he submitted to the Bank number of legal opinions on various legal issues in banking sector. Dr. Iwata's client basis further grew to include the Central Banks of Taiwan and Korea which were under Japanese colonial rule at the time and leading companies such as Tokyo Dento (Tokyo Electric Light), the first electric power company in Japan. These clients requested legal opinions from Dr. Iwata and the provision of legal opinions on civil and corporate legal matters became one of the strong practice areas of Iwata Office.