Establishment of the Law Office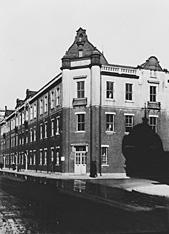 The history of Iwata Godo began in 1902 when Dr. Chuzo Iwata founded the Iwata Chuzo Law Office in the Tsukiji area of Tokyo. In 1906, the office moved to the Marunouchi area of Tokyo, which was the first business office district in Japan, at the time known as "London Block", and we have been in Marunouchi ever since. Our first office in Marunouchi was in the Mitsubishinaka 14th Building, and we later moved to the former Marunouchi Building, which was demolished and rebuilt in the late 1990s.
Expansion and Contribution to Judicial Precedents
At the time of the establishment of the office, Dr. Iwata intended to become an expert in the fields of banking and maritime transportation, focusing in particular on marine insurance. In order to achieve this aim, he made a request to the former Prime Minister Ito, who was from a village near Dr. Iwata's hometown of Yamaguchi, and whose acquaintance Dr. Iwata had made during his student days at Tokyo Imperial University. He asked Ito to introduce him to the Bank of Japan and shipping companies. These introductions resulted in Dr. Iwata being designated as legal counselor to both. Dr. Iwata's work in two major cases in particular, the sinking of the Umegaka-Maru in Shimonoseki Port, and the sinking of the Takenoura-Maru in Kushiro Port, earned him a reputation as a leading expert in maritime adjudications. As legal counsellor of the Bank of Japan, he submitted to the Bank several legal opinions on various issues in banking. Dr. Iwata's practice expanded to include the Central Banks of Taiwan and Korea, which were under Japanese colonial rule at the time, and leading companies such as Tokyo Dento (Tokyo Electric Light), the first electric power company in Japan. These clients requested legal opinions from Dr. Iwata, and advice on civil, commercial and corporate legal matters was among the firm's strongest practice areas.