Renaming Iwata Office to Iwata"Godo"
When Dr. Chuzo Iwata passed away in 1966, Iwata Office assumed the new name "Iwata Godo". The name "Iwata Godo" signified that this was a law office jointly ("godo" means "joint") formed and managed by attorneys who were the first and second generation apprentices to Dr. Iwata. Some other corporate law firms followed suit at the time and used the word "godo" in their respective names; a practice that has become much less common among corporate law firms now a days.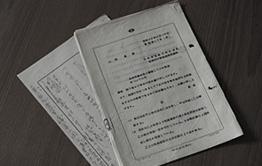 Over about two decades from mid 1960s to mid 1980s, various strains caused by the rapid economic growth came to the surface in such forms as air and other environmental pollutions as well as numerous social issues. Large-scale lawsuits of new types were filed during this period, too.

From this period up to mid 1990s, we, attorneys of Iwata Godo, have represented defendant corporations in many litigation cases of extreme importance and made every effort to ensure adequate and appropriate settlements. Examples of such cases include, among others, the insurance policy claim for the damages caused by the fire in Showa Oil Refinery that broke out during the Niigata Earthquake, criminal and civil procedures concerning an alleged oil cartel, the case regarding the sludge caused by wastewater from paper factories and accumulated on the seabed of Tagonoura in Shizuoka, the Lockheed Case, the case filed seeking injunction against operation of Date Thermal Power Plant, the lawsuits over thalidomide-induced sufferings and the air pollution cases in Kawasaki, Mizushima and the southern part of Nagoya.
In the field of practice related to the company law (constituting a part of the Commercial Law at the time), we have also contributed to the establishment of important judicial precedents that provide essential basis for corporate management today such as the judgement of the Grand Bench of the Supreme Court regarding a transaction conducted by a director of a company that involves indirect conflict of interests between this director and the company (judgement on necessity of approval by the board of directors of this sort of transaction and the validity of such transaction) and the judgement of the Supreme Court regarding the legality of summery explanation by a director at a general meeting of shareholders (judgement that acknowledged such explanation as adequate to fulfil director's statutory obligation to explain).