Renaming Iwata Office to Iwata Godo
When Dr. Iwata passed away in 1966, the firm added the word "Godo" to its name, which means "joint". This signified that the firm was jointly managed by the attorneys who were the first and second generation apprentices of Dr. Iwata. Some other corporate law firms followed suit at the time and used the word "godo" in their respective names, a practice that has since become much less common.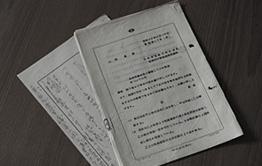 Over about two decades from the mid-1960s to mid-1980s, various strains caused by the rapid economic growth came to the surface in such forms as air and other environmental pollution, as well as numerous social issues. Large-scale lawsuits of new types were filed during this period.

From this period up to the mid-1990s, we represented defendant corporations in many lawsuits of extreme importance and made every effort to ensure appropriate settlements. Such cases include, among others, insurance claims resulting from the fire in the Showa Oil Refinery during the Niigata Earthquake, criminal and civil procedures concerning an alleged oil cartel, the Tagonoura Port wastewater sludge pollution case, the Lockheed bribery case, a lawsuit seeking an injunction to cease operation of the Date Thermal Power Plant, medical claims from thalidomide, and air pollution cases in Kawasaki, Mizushima and Nagoya.
In the area of company law, we made important contributions to the case law concerning the essential basis of corporate management, including a judgment of the Grand Bench of the Supreme Court on transactions between a company and its director (necessity of Board resolution and validity of the transaction in the event of an indirect conflict of interest), as well as a judgment to the effect that when directors at general meetings of shareholders give only one answer to multiple questions, this does not necessarily violate their duty to explain.